first, a few sites for your perusal:
the official site
, with
the cast and crew bios
the official blog
a batch '98 girl reviews the film
a Pisay teacher compiles the blog reactions and reviews so far
Howie Severino reviews the movie
Jessica Zafra reviews the movie
***
this review is dedicated, with warmth, respect, and affection, to the members of sections Jade and Garnet from Batch '99 at PSHS-Main Campus.
now I get to talk about the experience.
[how did we come to watch this showing and not the ones at CCP? because all the tickets from Thursday-Saturday had already been long since sold out. we went there last Thursday in hopes of getting something, but no dice apparently.]
we made it to the UP cinema theater in the middle of pouring rain. I had to watch in disbelief as, moments after our arrival, the entire lobby was absolutely packed to the rafters with people. many were students and a significant portion of those students were easy to pinpoint as recent graduates - they were wearing shirts, natch, and were animatedly discussing their time at PSHS.
even though the tickets had already been all sold, some people were still in line at the ticket booth hoping to get any extras - among whom were Kuya Bodjie of Batibot fame [he was dressed very casually] and, of all people, Eric Soriano, who taught English Journalism for a spell while I was at Pisay.
told Eric I'd been looking for him for two years. we exchanged numbers. he now knows of this blog and of
the other one
, so we'll see how that pans out.
the UP Cineastes org, which was hosting the screening, took its sweet time before finally letting in the more than 800 people who had queued up and gotten tickets. pandemonium then reigned inside the cinema as all those people looked for good seats.
finally, the lights went down and there was a round of applause as the movie began.
the movie was punctuated at least ten times by laughter, applause, and/or hooting as something or someone familiar showed up on the screen - from Ms. Casas, the teacher with a heck of a terribly familiar accent, to the librarian [who shushes Rom and Wena during their argument in the library stacks], to one of the dorm ladies, who was likely recognized by half the girls in the audience. [I was not in on that joke - I was never a dormer.]
every student character - Rom, Wena, Mat, Minggoy, Liway, Andy, Daki, and Euri - felt a heck of a lot like someone I'd known at Pisay, and that, I think, is part of the charm of this movie. watching them as they acted and interacted, I felt like they had all been my classmates at one point or another - yup, even the one who was suffering from a systemic disease. [Michael Bittoon, if you're reading this, drop me a line, Kuya!]
and at this point of course I get to tell you that I was at Pisay myself, entering the high school in June 1995, but staying only three years. I simply got dropped into the same situation as Mat - we both failed a math subject. mine was Algebra. after failing it in my third year, I was given my walking papers. I can't really consider myself an alumna because of that, and as such have never gone back for any of the reunions; I only visit once a year or so.
I wanted to cry at the end. the movie was just that affecting.
oh, and the timeframe! I can only wonder what it must have been like to be an Iskolar ng Bayan [Scholar of the Nation?] during a time when the nation itself was suffering much internal strife. ah, the hectic days of 1982 [when I was born] - I had heard the stories of UP and its reactions to martial law, but remain still rather ignorant of how Pisay reacted. considering how many of its alumni went on, and still go on, to UP, that bastion of nationalism and activism, I can only imagine it might as well have been UP on a slightly smaller scale.
too bad about the slang that the students used. the official website notes that anyone who immediately understood the "Datgilab" slang had been to Pisay during the '80s because that had been the students' jargon, but that it waned in use during the next decade, which saw the establishment of the regional science high schools.
just to break the tension, though, I had to laugh at some of the anachronisms that simply could not be avoided as they shot the movie: Ms. Casas and her "Best Buy" record book [National Bookstore only changed its logo and began the Best Buy line of products in the late '90s]; the Advanced Science and Technology Building and the bridge that leads to it [which was already in use during my third and last year at Pisay]; the repainted Humanities building and Grandstand; the new tables and chairs inside the cafeteria; the cubicles of the teachers' offices on the second floor. during the dance scene, they could only show a limited portion of the Gymnasium because they needed to avoid the swimming pool, which was under construction during my time.
I also found myself inordinately amused by the way that the girls' uniform skirts were pretty much an indication of when the movie was set. when I was there our skirts' hemlines were required to fall below the knees, and mine fell nearly five inches lower.
[though nothing will ever beat that picture I saw in a '70s-era yearbook I found in the library while at Pisay: some girls opted to wear bell-bottoms made of the same skirt fabric!!!!!]
much hooting, applause, and appreciative laughter as the credits rolled and a lot of extremely familiar names popped up under the acknowledgments section, from the current PSHS board of directors to many of the teachers, staff, students, and alumni who contributed to the film in one way or another. I even called out the name of my first-year homeroom teacher, who had been very kind to us.
I loved the hell out of the movie and will be first in line to buy a DVD should it come out - and I'm sure the line will be composed of alumni and those who went to the school.
kudos to Auraeus Solito for this love letter to his Pisay, a valentine shared by so many whose lives have been changed simply by hearing of Philippine Science High School.
***
my obligatory "Pisay-people-are-crazy" anecdote:
I will never forget that post-flag ceremony exercise one Monday during my freshman year, when the members of the student council at that time taught all of the students to dance the Macarena.
...
just thinking of it again makes me grin like an utter maniac. what on earth were we all thinking????
yes. I finally got the chance to view the Pisay movie today. warmest thanks, glomps, and several otherwise unmentionable acts of gratitude to my partner Alliver for getting us the tickets yesterday, just prior to their being sold out.
branch:

home

decor:

nostalgic

background sounds:

I admit it - the Pisay hymn!
optimoose
. I make no disclaimers for the results, though.
Saiyuki Gaiden Character Quiz

You're Tenpou Gensui. In a group of friends, anyone who resembles Tenpou tends to be the brains of the operation. You're polite and usually cheerful towards those around you, but you also know how to be serious. And who'd have guessed that maybe, just maybe, someone as sweet as you could be dangerous?
Take this quiz!







Quizilla |
Join

| Make A Quiz | More Quizzes | Grab Code
got this nifty meme from
branch:

home

decor:

satisfied

background sounds:

...the random stuff I listen to when cooking....


well, I'll still read Deathly Hallows even though I spoiled myself for the ending on Wikipedia.

but, good god, I don't know why this bug has come back to bite me so viciously and so sweetly.

I'm talking about...the Takarazuka Revue.

hanagumi, tsukigumi, yukigumi, hoshigumi, soragumi, senka!

*starry eyes*

the videos I'm watching on Youtube are anywhere from 11 to just 2 years ago, but wow. wow. I've fallen back in love with these amazing and very different women! and like many who are just discovering the Takarasiennes for the first time, I've become a huge fan of the Wao Yoka+Hanafusa Mari pair. they're just so goddamn talented I feel it's a bit of a shame that they had to retire when they did....

here's a sample of my new-old obsession. neither Yoka nor Mari are in this clip but it's a unique song nonetheless, plus there's the fact that it's "Seasons of Love" from Rent:



*goes back to avidly combing Youtube for more videos*
forget Harry Potter movie 5.
branch:

pc shop

decor:

cheerful

background sounds:

seasons of love+saigo no dansu
[spoil me. with REAL things if you please.]
this trip's more like 20-something years old.
I was watching "Kapuso Mo, Jessica Soho" just now and guess what their lead-off topic was?
Batibot
!!!!!!!!!!!!!!!!!!!!!!!!!!!!!!!!!!!!
OMGWTFSQUEEEEEEEEEEEEEEEEEEEEEEEEEEEEEEE
EEEEEEEEEEEEEEEEEEEEEEE!
ahem. okay, going back to my normal volume now.
Pong Pagong! Kiko Matsing! NingNing and GingGing! Manang Bola and the Perlas na Bilog! Kuya Bodjie and Ate Sienna, Ate Isay and Kuya Mario and Kuya Dwight!
god, I even had the cassette tapes of their soundtrack when I was a kid. if only I'd known. I wish it were easy to get a copy of those songs now...it looks like I'll have to go to the torrent sites for this nostalgia trip...
therefore, as my contribution to keeping this day varied and not just all about a certain boy wizard, I open the comments to everyone on the local f-list who has something to say about Batibot.
let the nostalgia trip begin!!!
the Batibot homepage, circa 1997.
but I'm not talking about 10 years ago.
branch:

home and working hard

decor:

excited

background sounds:

"pagmulat ng mata, laging nakatawa sa Batibot, sa Batibot"


And you know why.

[eighth year anniversary. life is good.]
I love you.
branch:

home with him

decor:

loved

background sounds:

'when you say nothing at all'
Taste Asia, apparently, is the SM malls' idea of what is called a "dampa" here in the Philippines. works on the same principle as eating at a wet market: you point at your choice of anything, tell them how much you can eat, tell them how you want your food done, then grab a seat and wait for the staff to deliver your food to you.
yes, a lot of the seafood at Taste Asia are alive, held in tanks so that people can point at this shrimp and that lot of oysters and then eat them a few minutes later, mindbendingly fresh and cooked to order.
one whole section of the sprawling venue was devoted to the hungry and loud bloggers. at one end was a special Cliquebooth insta-photo-postcards booth, before which people were queueing up; at the other was a stage, and next to the stage was a long table laden down with bags and bags of door prizes. [to enter the prize draw, guests simply had to drop a business card into the fishbowl at the registration counter.]
also next to the stage were two long tables on which were set up about five or so laptops - so that people could blog on site, of course!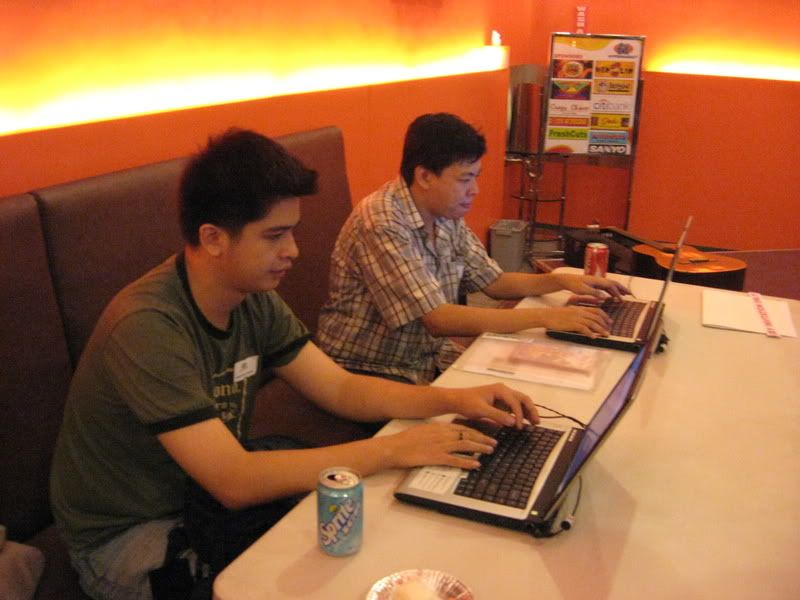 here are
Marcelle
and
Joel
working at the laptops.
this was where
Janette
, Alliver, Marcelle, Joel, and I spent most of the evening, talking about lots of things.
one of the unexpected treats we ran into at this event: meeting up with a couple of old friends: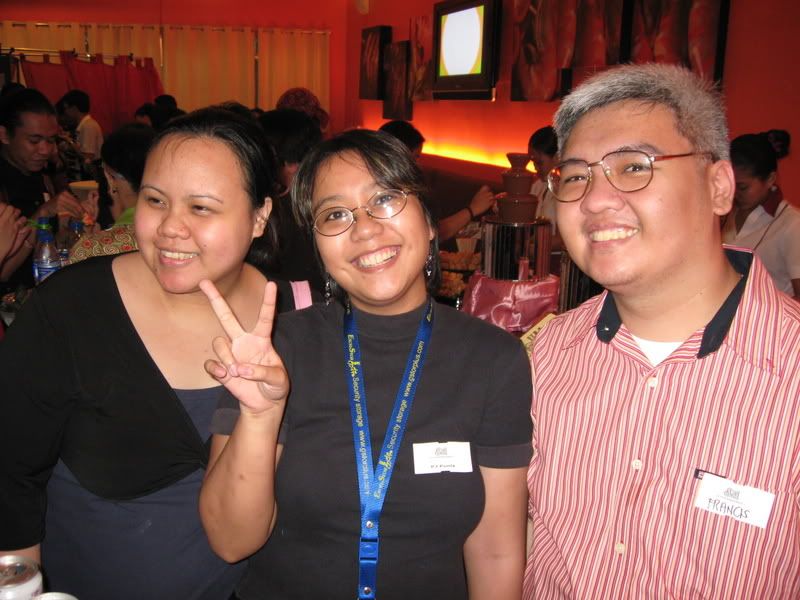 from left to right, that's Ria, me, and
Francis
at the party!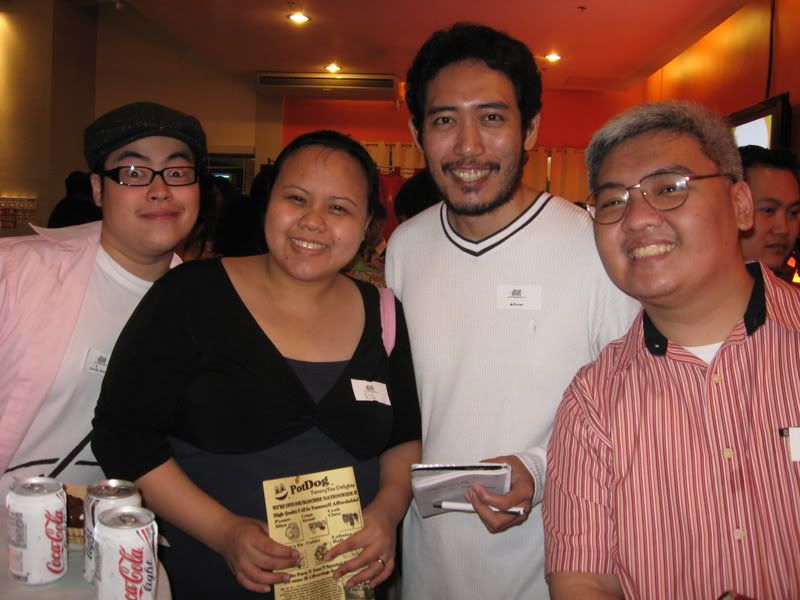 that's Francis's former classmate Ganns on the left, then Ria, Alliver, and Francis.
the program got underway with Marcelle and his magic act. there was a pretty nifty number trick, a coin-switch, and his patented forks act. [he joked that he got this set of forks from the food court of Shangri-La EDSA mall.]
then he got to the climax of his act, in which he claimed it was only the second time that he would attempt to complete a scrambled Rubik's cube - blindfolded. as he needed two volunteers, he sent a big grin towards me and Alliver and picked us to assist him.
[I have no pictures for what happened next.]
Marcelle not only used a pair of painted-over sunglasses as a blindfold - he asked us to tape coins over his eyes!
[someday I will get around to telling him that what he did gave me the absolute fuckin' screaming mimis. Charon anyone?]
and right before my and Alliver's eyes, he solved the Rubik's cube under ten minutes - to the oohs and aahs of the crowd!
as the food was set for the actual dinner, the people from SM Hypermarket came on and laid the ground rules for a pretty amazing competition that they were putting together. essentially, rules are, blog about the SM Hypermarket and stand a chance to win the grand prize, a trip for two to Kuala Lumpur!
oh, you could just hear the bloggers' eyes get wide at that.
all the formalities done, it was dinner time, and while that was going on they started raffling off the door prizes. I wound up winning a nice, girly bag - as did Janette!
I also took home a nifty Coke glass after doing a quick plug for
my Granado Espada blog
and for
Game! Magazine online
.
[Incidentally - do please go and buy a copy of the July print edition of Game! - I wrote the hefty Granado Espada feature!]
Alliver and I also tried out the Cliquebooth. Check out the swag in this photo: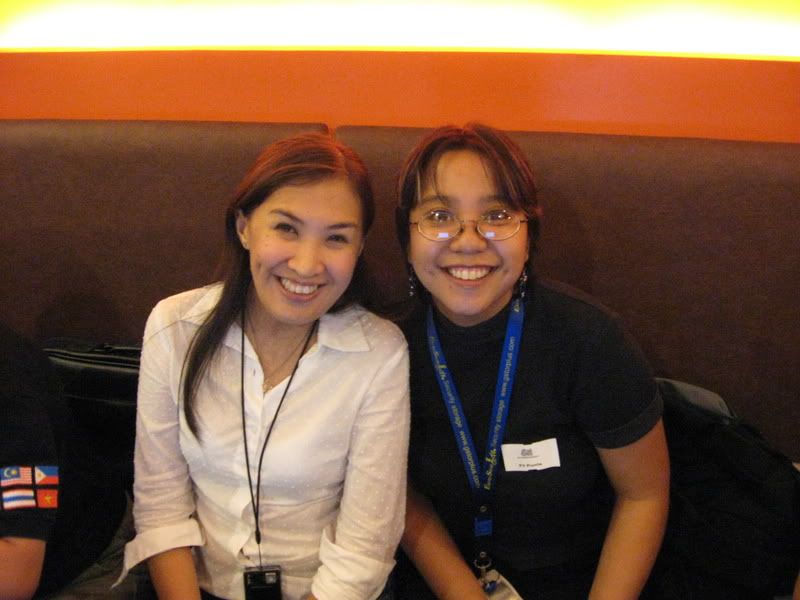 all thanks to
Aileen
for this amazing get-together!
[for more pictures, please visit this
Photobucket link.
]
went to Taste Asia for the Bloggers' Food Fest last night, along with Alliver. it took us some doing to find the venue as we weren't actually as familiar as we would have liked to be with the Mall of Asia, but after asking for some directions, we finally stumbled over the venue.
branch:

looking for a job!

decor:

hyper

background sounds:

the gears in my head go round and round....


i guess i'm in need of a job right now.

if y'all would be so kind as to forward any vacant writing / editing / features / copywriting jobs my way, i would be ever so much obliged to you.

i'll be happy to provide references and relevant papers on request.

thanks in advance for your help, everyone.
er.
decor:

determined
branch:

pc shop...

decor:

blah

background sounds:

you'll have to guess.